Egg size is very important to poultry farmers because, the bigger the eggs, the higher the monetary value. Though it is not possible for all chickens to produce eggs of the same size, there are some factors that determine egg size. They include: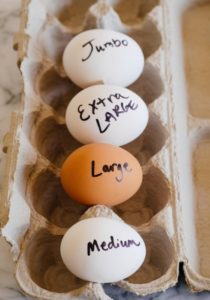 1. Breeding: Most breeders develop strains which will produce egg sizes required by the market. Random sampling test is a reliable guide for comparing the sizes of different strains in the market.
2. Feeds: Most rations in the market are well balanced. However, if an unbalanced state or badly mixed feed is given, smaller eggs may result.
Also Read: How to sell your eggs, chickens and other farm products quickly
3. Feed restriction: All birds should be able to get food when they want it. Any restriction on feed, whether due to lack of enough feeder space, forgetting to feed the birds of from using state food, will lower feed consumption and reduce egg size.
4. Lack of water: Water that is too hot, too cold or dirty will be unpalatable to the birds-they will not drink enough, food consumption will fall and egg sizes will suffer. Keep the water fresh and clean and look out for any faulty drinkers supply.
5. Protein level: Rations containing less than 15 percent are liable to give smaller egg sizes. Although this is not likely to be a problem with commercially compounded rations, home mixers should keep a careful check on the point.
6. Laying-house temperature: Experiments have shown that 1 oz. per dozen less at temperatures over 70­­­­­oF than at 55oF. It is important, therefore, to keep the house as cool as possible during hot weather.
Also Read: 7 Causes of Decline in Egg Production
7. Disease: Most disease will upset the birds, giving decreased feed consumption. This can only lead to lower production and egg size. Good hygiene and management will reduce this risk.
8. Age of maturity: Birds which mature early, such as those reared during increasing day-length, will lay a smaller egg than bird reared on a constant day-length or a decreasing day-length.
9. Age of birds: Birds at 20 to 26 weeks of age will lay smaller eggs than at 40 to 50 weeks. Maximum egg size can be expected when the birds reach about one year old. Egg size tends to get smaller just before birds stop laying.
Also Read: How to improve the egg-laying performance of layers or laying chickens
10. Egg cooling and storage: It is important to cool eggs as quickly as possible after they are laid and to store them at a temperature of 50oF to 55oF, otherwise they will lose weight by evaporation. This may result in poorer grading results, and so a poorer economic return.