A lot of Nigerian poultry farmers face various challenges associated with the procurement of day-old chicks (DOC), poults and point of lays. These challenges include difficulty to find a reputable hatchery or vendor, failure of hatchery or vendor to supply at an agreed date and difficulty to get quality DOC. Well, the good news for Nigerian poultry farmers is that they can now order for their day-old chicks, day-old poults (turkey) and their point of lay chickens online. Thanks to Afrimash for providing this service.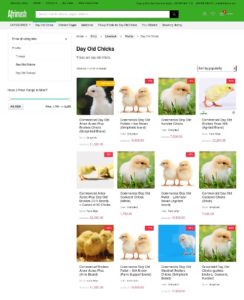 Also Read: How To Brood Chicks And Turkey Poults
Irrespective of your location in Nigeria, you can buy your chicks online and they would be delivered to the nearest delivery centers to you. Click here to see all their DOC pickup points across Nigeria. The advantage of using this vendor is that you can book for the breed and quantity of chicks and from the hatchery of your choice right on their website. Other products you can buy on Afrimash's website include:
Day Old Broiler chicks
Day Old Cockerel chicks
Day Old Layer chicks
Day Old Noiler chicks
Day Old Turkey poults
Point of lay chickens
Egg incubators
Vaccines
Poultry equipment like cages, drinkers, feeders etc.
They have chicks from the following hatcheries:
AMO HACHERY
AGRITED HATCHERY
BOOM HATCHERY
CHI HATCHERY
FARM SUPPORT HATCHERY
MAX HATCHERY
NIGER HATCHERY
ZARTECH HATCHERY
KARMADEX HATCHERY
As mentioned earlier, Afrimash has delivery centers nationwide and there are contact numbers that you can call if you have an issue with your order or ask for additional information.
Also Read: How To Brood Chicks And Turkey Poults
This post is not an official review or recommendation for this company. It is primarily for informational purposes. Though I have used their service before and I got my day old chick (DOC) which were all in a good condition. So if you're convinced and could take the risk, don't hesitate to try their service by visiting www.afrimash.com
If you know any other genuine companies or websites that offer this kind of online service to procure chicks, and worth adding to this post, kindly drop their name in the comment box.