What is Cattle?
Cattle is a type of domesticated ungulate mammal. That is, they are hoofed animals that are raised by humans for meat, milk or draught. A male cattle is called Bull. A female cattle is called Cow. The young of cattle is called Calf.
Types of Cattle or Cows
There are over 450 cattle breeds in the world, and they can be classified into one of four different types of cattle or cow. There are dairy breeds, beef breeds, dual-purpose breeds and draft breeds. Each breed has unique characteristics that make it well-suited for a specific purpose.
For example, Brahman cattle are resistant to tropical diseases and are well-adapted to the hot, humid climate of the tropics. Here is a more detailed look at each of the major cattle or cow breeds types.
Dairy breeds are the most common type of cattle, and they are bred for milk production. Dairy breeds of cattle include Holstein, Jersey, Guernsey, Brown Swiss, and Ayrshire.
Beef breeds are bred for meat production. The most popular beef breeds of cattle include the Angus, Hereford, Simmental, and Charolais.
Dual-purpose breeds are used for both milk and meat production. The most popular dual-purpose breeds of cattle include the Dutch Belted, Devon, and Shorthorn.
Draft breeds are bred for work rather than meat or milk production. The largest draft breed is the Belgian Blue, while the smallest is the Dexter.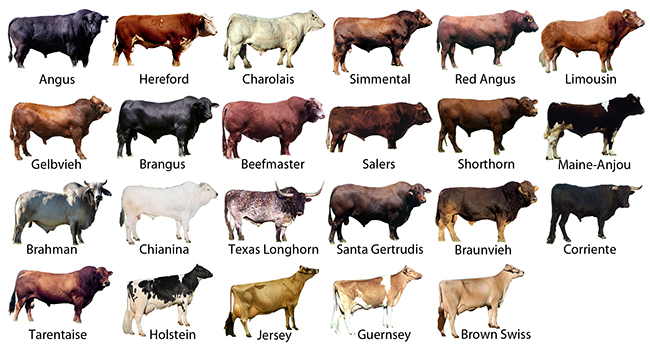 A list of popular cattle or cow breeds in the world are presented in the table below:
List of Cattle Breeds
| S/N | Cattle Breed | Origin | Purpose |
| --- | --- | --- | --- |
| 1 | Abondance | France | Milk; Beef |
| 2 | Adaptaur | Australia | Beef |
| 3 | Afrikaner | South Africa | Beef |
| 4 | Agerolese | Italy | Milk |
| 5 | Alambadi | India | Draught |
| 6 | Albera | France; Spain | Beef |
| 7 | American Milking Devon | United States | Milk; Beef; Draught |
| 8 | Anatolian Black | Turkey | Milk; Beef; Draught |
| 9 | Andalusian Black | Spain | Beef |
| 10 | Angus | Scotland | Beef |
| 11 | Ankole-Watusi | East Africa | Milk; Beef; Draught |
| 12 | Argentine Criollo | Argentina | Milk; Beef |
| 13 | Armorican | France | Milk; Beef |
| 14 | Arouquesa | Portugal | Milk; Beef |
| 15 | Asturian Valley | Spain | Milk; Beef |
| 16 | Aubrac | France | Milk; Beef |
| 17 | Australian Braford | Australia | Beef |
| 18 | Ayrshire | Scotland | Milk |
| 19 | Bargur | India | Milk; Draught |
| 20 | Barzona | United States | Beef |
| 21 | Bazadaise | France | Beef |
| 22 | Belgian Blue | Belgium | Milk; Beef |
| 23 | Belgian Red | Belgium | Milk; Beef |
| 24 | Belmont Red | Australia | Beef |
| 25 | Belted Galloway | Scotland | Beef |
| 26 | Blaarkop | Netherlands | Milk |
| 27 | Black Hereford | England | Beef |
| 28 | Blonde d'Aquitaine | France | Beef |
| 29 | Boran | Eastern Africa | Beef |
| 30 | Brahman | India | Milk; Beef; Draught |
| 31 | Brangus | United States | Beef |
| 32 | Braunvieh | Switzerland | Milk; Beef |
| 33 | Brava | France | Beef |
| 34 | Brown Swiss | India | Milk; Beef; Draught |
| 35 | Burlina | Italy | Milk |
| 36 | Busa | Dinaric Alps | Milk; Beef; Draught |
| 37 | Cachena | Portugal/Spain | Milk; Beef; Draught |
| 38 | Camargue | France | Beef; Draught; sport |
| 39 | Canadian Speckle Park | Canada | Beef |
| 40 | Canadienne | Canada | Milk; Beef |
| 41 | Canchim | Brazil | Beef |
| 42 | Caracu | Brazil | Milk; Beef; Draught |
| 43 | Casta | France | Milk; Beef |
| 44 | Charolais | France | Beef; Draught |
| 45 | Chianina | Italy | Beef; Draught |
| 46 | Chinese Black Pied | China | Milk |
| 47 | Corriente | Spain | Milk; Beef; Draught; sport |
| 48 | Corsican | France | Beef |
| 49 | Dangi | India | Milk; Draught |
| 50 | Danish Red | Denmark | Milk; Beef |
| 51 | Deoni | India | |
| 52 | Devon | England | Milk; Beef |
| 53 | Dexter | Ireland | Milk; Beef |
| 54 | Dhanni | Pakistan | Milk; Beef; Draught |
| 55 | Droughtmaster | Australia | Beef |
| 56 | Dutch Belted | Netherlands | Milk; Beef |
| 57 | English Longhorn | England | Milk; Beef |
| 58 | Evolene | Switzerland | Milk |
| 59 | Finn | Finland | Milk; Beef |
| 60 | Fjall | Sweden | Milk; Beef |
| 61 | Fleckvieh | Austria | Milk; Beef |
| 62 | Florida Cracker | United States | Beef |
| 63 | French Simmental | France | Milk; Beef |
| 64 | Galloway | Scotland | Beef; Draught |
| 65 | Gangatiri | India | Milk; Draught |
| 66 | Gaolao | India | Milk; Draught |
| 67 | Gascon | France | Beef; Draught |
| 68 | Gelbvieh | Germany | Milk; Beef; Draught |
| 69 | German Angus | Germany | Beef |
| 70 | Gir | India | Dairy |
| 71 | Glan | Germany | Milk; Beef; Draught |
| 72 | Gloucester | England | Milk; Beef; Draught |
| 73 | Greek Shorthorn | Greece | Milk; Beef |
| 74 | Halikar | India | Draught |
| 75 | Haryana | India | Milk; Draught |
| 76 | Hays Converter | Canada | Beef |
| 77 | Heck | Germany | Science |
| 78 | Hereford | England | Beef |
| 79 | Herens | Switzerland | Beef; cow fighting |
| 80 | Highland | Scotland | Beef |
| 81 | Hinterwald | Germany | Milk; Beef |
| 82 | Holando-Argentino | Argentina | Milk; Beef |
| 83 | Holstein Friesian | Netherlands | Milk |
| 84 | Hungarian Grey | Hungary | Beef; Draught |
| 85 | Icelandic | Iceland | Milk |
| 86 | Illawarra | Australia | Milk; Beef |
| 87 | Irish Moiled | Ireland | Milk; Beef |
| 88 | Istoben | Kirov region | Milk; Beef |
| 89 | Jamaica Hope | Jamaica | Milk |
| 90 | Jersey | Channel Islands | Milk |
| 91 | Jutland | Denmark | Milk; Beef |
| 92 | Kankrej | India | Draught |
| 93 | Kangayam | India | Draught |
| 94 | Kazakh Whiteheaded | Kazakhstan; Russia | Milk; Beef |
| 95 | Kenkatha | India | Draught |
| 96 | Kerry | Ireland | Milk; Beef |
| 97 | Kherigarh | India | Draught |
| 98 | Khillari | India | Draught |
| 99 | Kostroma | Russia | Milk; Beef |
| 100 | Krishna Valley | India | Milk; Draught |
| 101 | Kuri | Africa | Milk; Beef; Draught |
| 102 | Lourdais | France | Milk; Beef; Draught |
| 103 | Lowline | Australia | Beef |
| 104 | Luing | Scotland | Beef |
| 105 | Lohani | Pakistan | Beef; Draught |
| 106 | Lithuanian Red | Lithuania | Beef |
| 107 | Lincoln Red | United Kingdom | Beef |
| 108 | Limousin | France | Beef; Draught |
| 109 | Limia | Spain | Milk; Beef; Draught |
| 110 | Lebedyn | Ukraine | Milk |
| 111 | Latvian Brown | Latvia | Milk; Beef |
| 112 | Madura | Indonesia | Milk; Beef; Draught; racing |
| 113 | Maine-Anjou | France | Milk; Beef; Draught |
| 114 | Malnad Gidda | India | Milk; Draught |
| 115 | Malvi | India | Draught |
| 116 | Marchigiana | Italy | Beef; Draught |
| 117 | Maremmana | Italy | Milk; Beef; Draught |
| 118 | Maronesa | Portugal | Milk; Beef; Draught |
| 119 | Mewati | India | Milk; Draught |
| 120 | Milking Shorthorn | Great Britain | Milk; Beef |
| 121 | Mirandesa | Portugal | Beef; Draught |
| 122 | Mongolian | China | Beef; Draught |
| 123 | Montbéliarde | France | Milk; Beef |
| 124 | Murboden | Austria | Milk; Beef; Draught |
| 125 | Murnau-Werdenfels | Germany | Milk |
| 126 | Murray Grey | Australia | Beef |
| 127 | Nagori | India | Draught |
| 128 | N'dama | Guinea | Milk; Beef |
| 129 | Nelore | India | Beef; Draught |
| 130 | Nguni | Africa | Milk; Beef |
| 131 | Nimari | India | Draught |
| 132 | Normande | France | Milk; Beef |
| 133 | Norwegian Red | Norway | Milk; Beef |
| 134 | Ongole | India | Beef; Draught |
| 135 | Pajuna | Spain | Beef; Draught |
| 136 | Pantaneiro | Brazil | Beef; Milk |
| 137 | Parthenais | France | Beef; Draught |
| 138 | Pembroke | Wales | Milk; Beef |
| 139 | Pie Rouge des Plaines | France | Milk |
| 140 | Piedmontese | Italy | Milk; Beef |
| 141 | Pinzgauer | Austria | Milk; Beef |
| 142 | Pirenaica | Spain | Beef; Draught |
| 143 | Podolica | Italy | Milk; Beef; Draught |
| 144 | Polish Red | Poland | Milk; Beef; Draught |
| 145 | Ponwar | India | Draught |
| 146 | Punganur | India | Milk; Beef; Draught |
| 147 | Pustertaler Sprinzen | Italy | Beef |
| 148 | Ramo Grande | Portugal | Milk; Beef; Draught |
| 149 | Randall | United States | Milk; Beef; Draught |
| 150 | Rathi | India | Milk; Draught; domestic |
| 151 | Red Angus | Scotland | Milk; Beef |
| 152 | Red Kandhari | India | Draught; domestic |
| 153 | Red Poll | England | Milk; Beef |
| 154 | Red Sindhi | India/Pakistan | Milk; Beef |
| 155 | Ringamala | Sweden | Milk |
| 156 | Romagnola | Italy | Beef; Draught |
| 157 | Romosinuano | Colombia | Beef |
| 158 | Rubia Gallega | Spain | Milk; Beef |
| 159 | Sahiwal | India | Milk |
| 160 | Santa Gertrudis | United States | Beef |
| 161 | Sayaguesa | Spain | Beef; Draught |
| 162 | Senepol | Caribbean Island | Beef |
| 163 | Shetland | Scotland | Beef; Draught |
| 164 | Shorthorn | England | Beef |
| 165 | Simmental | Switzerland | Milk; Beef; Draught |
| 166 | Siri | Bhutan | Milk; Draught |
| 167 | Sokoto Gudali | Nigeria | Milk; Beef |
| 168 | South Devon | England | Milk; Beef |
| 169 | Southern Yellow | China; Vietnam; Taiwan | Milk |
| 170 | Spanish Fighting Bull | Spain | Beef; sport |
| 171 | Square Beefer | Australia | Beef |
| 172 | Sussex | England | Beef |
| 173 | Swedish Red | Sweden | Milk |
| 174 | Tarentaise | France | Milk; Beef |
| 175 | Telemark | Norway | Milk; Beef |
| 176 | Texas Longhorn | United States | Milk; Beef |
| 177 | Tharparkar | India | Milk; Draught |
| 178 | Tswana | Botswana | Milk; Beef |
| 179 | Tudanca | Spain | Milk; Beef; Draught |
| 180 | Tux | Austria | Milk |
| 181 | Tyrolese Grey | Austria | Milk; Beef |
| 182 | Ukrainian Grey | Ukraine | Domestic |
| 183 | Umblachery | India | Draught |
| 184 | Vaynol | Scotland | Beef |
| 185 | Vechur | India | Milk |
| 186 | Vorderwald | Germany | Milk; Beef |
| 187 | Welsh Black | Wales | Beef |
| 188 | White Fulani | Nigeria | Milk; Beef |
| 189 | White Park | United Kingdom | Milk; Beef |
| 190 | Whitebred Shorthorn | United Kingdom | Beef |
| 191 | Yakutian | Russia | Milk; Beef; Draught |
| 192 | Yanbian | China | Draught |
| 193 | Yurino | Ukraine | Domestic |
| Africander | Boran | Sudanese Fulani | Oropa | Kerry | Sussex |
| --- | --- | --- | --- | --- | --- |
| Akaushi | Bordelais | Galician Blond | Ovambo | Kherigarh | Swedish Friesian |
| Alberes | Braford | Galloway | Parthenais | Khillari | Swedish Red And White |
| Alentejana | Brahman | Gaolao | Philippine Native | Kholmogory | Swedish Red Polled |
| Allmogekor | Brahmousin | Gascon | Pied Montese | Kilis | Tarentaise |
| American | Brangus | Gelbray | Pinzgauer | Krishna Valley | Telemark |
| American Whitepark | Braunvieh | Gelbvieh | Polish Red | Kurdi | Texas Longhorn |
| Amerifax | British White | German Angus | Polled Hereford | Kuri | Texon |
| Amritmahal | Brown Swiss | German Redpied | Polled Highland | Latvian Brown | Tharparkar |
| Anatolianblack | Busa | Gir | Ponwar | Limousin | Tswana |
| Andalusian Black | Cachena | Glan | Qinchuan | Limpurger | Tuli |
| Andalusian Grey | Canadienne | Gloucester | Rath | Lincoln Red | Turkish Grey Steppe |
| Angeln | Canaryisland | Gobra | Rathi | Lithuanianred | Ukrainian Beef |
| Angus | Canchim | Greek Shorthorn | Ratien Gray | Lohani | Ukrainian Grey |
| Ankole | Carinthianblond | Greek Steppe | Red Angus | Lourdais | Ukrainian Whitehead |
| Ankolewatusi | Caucasian | Groninge | Red Brangus | Luing | Umblachery |
| Argentine Criollo Cattle | Channi | Groningen | Red Pied Friesian | Madagascar Zebu | Ural Blackpied |
| Asturian Mountain | Charbray | Gudali | Red Poll | Maine-Anjou | Vestland Fjord |
| Asturian Valley | Charolais | Guernsey | Red Polled Ostland | Malvi | Vestland Red Polled |
| Aubrac | Chianina | Guzerat | Red Sindhi | Mandalong | Vestlarp |
| Aulieata | Chinampo | Hallikar | Red Steppe | Marchigiana | Vosges |
| Australian Braford | Chinese Black Andwhite | Hariana | Red Fulani | Maremmana | Wagyu |
| Australian Friesian Sahiwal | Cholistani | Harton | Reggiana | Marky | Welsh Black |
| Australian Lowline | Corriente | Hays Converter | Retinta | Masai | Whitepark |
| Australian Milking Zebu | Costeño Con Cuernos | Hereford | Rojhan | Mashona | Xinjiang Brown |
| Ayrshire | Dajal | Herens | Romagnola | Maure | Yanbian |
| Azaouak | Damascus | Highland | Romosinuano | Mazandarani | |
| Bachaur | Damietta | Hinterwald | Rpostlan | Meuserhineyssel | |
| Baladi | Dangi | Holando Argentino | Russian Black Pied | Mewati | |
| Baltata Romaneasca | Danish Jersey | Holstein | Rx3 | Miniature Zebu | |
| Barka | Danish Red | Horro | Sahiwal | Milking Devon | |
| Barzona | Deoni | Hungarian Grey | Salers | Milking Shorthorn | |
| Bazadais | Devon | Icelandic | Salorn | Mirandesa | |
| Bearnais | Dexter | Illawarra | Sanhe | Modicana | |
| Beefalo | Dhanni | Indo Brazilian | Sanmartinero | Mongolian | |
| Beef Maker | Djali | Irish Moiled | Santacruz | Montbeliard | |
| Beef Master | Dolafe | Israeli Holstein | Santa Gertrudis | Morucha | |
| Belarus Red | Drought Master | Israeli Red | Sarabi | Murboden | |
| Belgian Blue | Dulong | Istoben | Senepol | Murray Grey | |
| Belgian Red | Dutch Belted | Jamaica Black | Sharabi | Muturu | |
| Belmont Adaptaur | Dutch Friesian | Jamaica Hope | Shetland | Nagori | |
| Belmont Red | East Anatolian Red | Jamaica Red | Shorthorn | Nanyang | |
| Belted Galloway | Enderby Island | Jaulan | Siboney | Ndama | |
| Bengali | English Longhorn | Jersey | Simbrah | Nelore | |
| Berrendas | Estonian Red | Kangayam | Simmental | Nguni | |
| Bhagnari | Evolene | Kankrej | Sindhi | Nimari | |
| Blanca Cacerena | Fighting Bull | Karan Fries | Siri | Normande | |
| Blanco Orejinegro | Finnish | Karan Swiss | Sloveniancika | Norwegian Red | |
| Blonded Aquitaine | Fjall | Kazakh | South Devon | Ongole | |
| Bonsmara | Florida Cracker | Kenwariya | Blacksided Trondheim And Norland | Ormaboran | |