A laying hen will produce eggs for a number of years, but it is only economical to keep the layers for 18 month. Egg production commences at about 22 weeks of age, rises sharply, reaching a peak at about 32-35 weeks of age, and then gradually declines at the rate of half a week. It is thus a usual routine practice to replace the layers at the age of 18 months.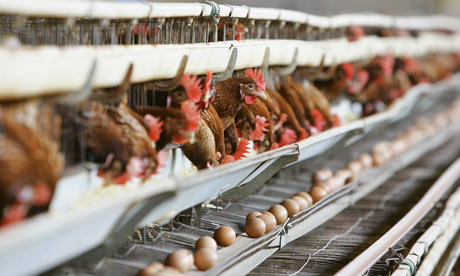 The production cycle may be conveniently divided into three stages (popularly called phases).
Phase 1: It is the period from 22 weeks (age of first laying) of age to 42 weeks of age and during this period, the layer is expected to:
Increase in egg production from zero to a peak of approximately 85% production.
Increase in body weight to attain mature body weights;
Produce eggs of gradually increasing size from about 36 grams per egg at 22 weeks of age to approximately 58 grams per egg at 42 weeks of age.
Phase 2: It is the period from 43 weeks to 62 weeks of age. Egg production declines up to 65 percent.
Phase 3: It is the period from 63 weeks up to 72 weeks. The egg production is less than 65 percent.