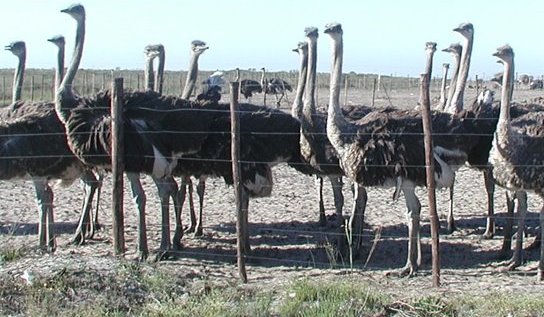 Ostrich Farming Business is very cool, lucrative and profitable. However, those you wants to start the business ask one common question: What Does Ostrich Farming Business Entails? This question sounds like a simple one, however when examining what is an ostrich farming business in more depth, maybe it is not so simple. Ostrich farming is just one aspect of all the components that make up the ostrich business opportunities, and even ostrich farming itself is made up of a number of components that can be individual businesses.
The most important factor is to first define one's product, know the demand for that product and the supply chain to access your market. For example, one may decide to incubate ostrich eggs as the core business. However, no matter how perfect the equipment and setup, for the business to be successful, there must be a consistent supply of quality ostrich eggs. There must also be a ready market for the hatched chicks. It may be you will set the business up to incubate on contract for a negotiated fee, or you may decide to purchase ostrich eggs and sell chicks. Whichever, ensure supplies are reliable, and your customers have reliable avenues to remove those chicks once they are market ready.
If one decides to go into all aspects of ostrich farming, there must be an outlet for the slaughter birds.  All aspects include breeders – including genetic improvement, incubation, chick rearing and finishing slaughter birds rather than specialization in any one area.
Then we move onto processing. Processing includes all of the following activities – slaughtering birds, deboning the carcass, value adding the meat, skin tanning, manufacturing leather goods, cleaning and dying feathers and manufacturing feather products.  The ostrich has a unique fat pan that carries other manufacturing opportunities once consistent quantities of fat that are produced.
It can be seen that the products of ostrich cover a number of different industries, including ostrich meat, ostrich skins for leather, ostrich feathers, fashion and utility. In this discussion on what section of the industry you may want to enter, never forget the importance of marketing.
Many people recognize the opportunities marketing ostrich products can offer you. Even though your background may be in livestock production, be prepared to discover that there may be a serious supply issue.
So when starting out with an ostrich farming business or any other activity in the industry it is important to ensure that the areas of the supply chain your business depends on, are in place and able to supply and/or take your marketable products.
Management Factors that influence the Success of Ostrich Farming
There are four management components that are required to be correctly in place in livestock farming, and ostrich farming is no exception to this rule. These components are Nutrition, Feed Management, Farm Management and Genetics.
Nutrition
A farm can have the best management, but if the nutrition is failing to provide the correct nutrients, then the production potential of the birds will not be achieved. This not only includes egg laying, hatchability, good feed conversion and achieving slaughter age as quickly as possible, it also determines the length number of seasons the breeder birds can maintain optimum levels of production. Breeder replacement carries a cost, so the longer the breeders can remain productive, the better. Although one reason for culling may be the breeder genetics have improved in newer stock as improving the genetic performance of the livestock is a critical component to profitable ostrich farming.
The important role of nutrition is to provide nutrients, not simply stuff that an animal can eat as cheaply as possible. The food must provide a large number of nutrients at the correct levels and in the right proportions for the production required of the particular age group or production group. Even the best nutrition can only provide the performance required if the farm is managed to the highest level.
Feed Management
Feed Management covers the management aspects connected to ensuring the feed is manufactured correctly, stored correctly and fed correctly. Ensuring adequate water supply falls under feed management as water in the right quantities and temperature is a critical component of all nutrients supplied to the birds. Malnutrition in ostrich is currently the number one challenge for producers to overcome. Malnutrition can come from incorrect rations; it can also come from errors in the management of that feed such as incorrect weighing, irregular feeding times or lack of sufficient water.
Farm management
General Farm management includes such things as providing the correct housing, pens, fences, handling, and veterinary health plan. Development and operating the biosecurity plan is an important part of the general farm management. Maintaining good records and ensuring the farm meets all the standards of the market you are serving. The phrase "Good Agricultural Practice" (GAP) is now important in the marketplace. Meeting the GAP demands requires high standards of management throughout the farming processes.
Genetics
With adequate nutrition in place supported by the highest standards of feed management and farm management, then the full genetic potential of the birds at all stages of production can show through. Genetic development as we have witnessed with the mainstream livestock specie has not yet started with Ostrich. This offers the greatest opportunities for achieving the earlier slaughter ages and increased yields discussed earlier.
Production Problems in Ostrich Farming
Rearing livestock will always have challenges regarding health and production issues and over the years, ostrich farming has experienced many problems. The following are some of the more common problems.
1. Breeder
Problems experienced with breeders are such things as birds refusing to eat, impactions, sluggish breeding activity, egg infertility, low egg production, hens egg bound, cessation in laying, death by internal bleeding, birds constantly sitting and missing feathers.
2. Egg Deformities
These can include extreme egg sizes from very small to in excess of 2 kgs. Other problems are such things as wrinkled or chalky eggshells, skin eggs, eggshell porosity problems and eggshells that are too hard. Whilst some ostrich farmers rejoice at having ostrich eggs over 2kgs, this is not necessarily a good thing. Uniformity is sought for consistent results.
3. Incubation Problems
The following are some problems experienced during incubation – early embryo deaths, weak pipping, mal-positioned chicks, frequent assisted hatches, yolk sac infections, deformities, extremely swollen chicks and chicks covered in brown or green slime.
4. Chick Rearing
Once chicks are hatched, early chick mortality continues to be a major challenge in ostrich production. As there are multiple causes, it has been named Fading Chick Syndrome as that best describes the way the chicks weaken and die. Other common problems are chicks hatched with bright yellow livers, poor and variable internal organ development, chicks with leg problems including turned out, splayed and bowed. Slow growing chicks or chicks surviving but failing to thrive are commercially challenging.
5. Commercial Slaughter Birds
The important challenges here are to produce commercially viable birds. Commercial viability includes many aspects but most importantly is getting those birds to market at the lowest cost per kilo of meat produced – but at the same time ensuring their products are acceptable to the market.
6. Ostrich Products
A significant barrier to market over the years has been and continues to be:
i. Ostrich meat market supply: The inconsistencies in muscle sizes, meat color and ability to deliver on time.
ii. Ostrich skins and leather market supply: Variability in skin grades, thickness and overall quality of the leather.
iii. Ostrich feathers: Anecdotal experience has demonstrated just how variable the feather quality is dependent on the management program the birds were reared and the genetic history of those birds.
The market opportunities depend on the procedures introduced on the farm. A business plan must identify the problems to enable it to introduce systems to provide solutions to those problems at the ostrich farming level.
Infrastructure Required for Ostrich Farming
If starting an ostrich farm (activities in green), assess the local activities (shown in blue), and establish their terms of business – such as the details you need to establish in order to build and cost your business plan.
Feed
Feed controls the health and production of your livestock. Check availability of commercial rations – types of rations, productive value of those rations and cost. If not available, check the ingredient availability in your area and the costs of those ingredients.
Slaughter
Is there a local company purchasing and slaughtering birds and if so:
What are their requirements for bird weight?
Bird standards
Numbers they are willing to purchase
Payment terms
If no local company purchasing and slaughtering birds
Is there a local slaughterhouse you can work with to slaughter and process birds
What are their terms
Will they slaughter and process the birds according to your requirements
Will you have to build your own slaughter and processing?
The warning here is that if any one aspect of the supporting infrastructure is not in place, do not spend money on raising birds unless you have sufficient capital to develop the missing elements. Every day that a slaughtered bird is on farm past their maturity becomes extremely costly and erodes potential profit when ostrich farming.
Before starting an ostrich farming venture, you need to fully evaluate the work required, for example, you may need to do the daily farming including mixing your own feed and you also may need to slaughter and process those birds, as well as sell their produce.