History of Harlequin Rabbit Breed
The Harlequin Rabbit is one of the breeds of rabbits that has its origin in France. This type of rabbit breed is popular for its coat coloration and markings. The Harlequin Rabbit was developed in the 1880s in France which is believed to be crossbred of semi-wild Tortoiseshell Dutch rabbit and wild rabbit. The Harlequin Rabbit was formerly called Japanese Rabbit but the name was dropped during World War 2.
There are two varieties of the Harlequin rabbit breed. They are Japanese Harlequin rabbit and Magpie Harlequin rabbit. The Japanese Harlequin rabbit is known for its unique blend of either black, chocolate, blue or lilac color on a fawn or orange background. The Magpie Harlequin rabbit is known for its blue, lilac, chocolate, or black markings on a white background.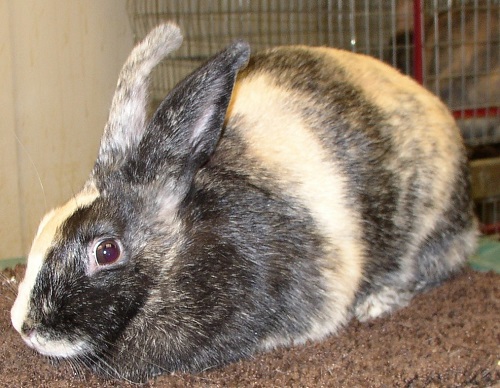 General Characteristics of Harlequin Rabbit Breed
Harlequin rabbits have small to medium body size
Their mean body weight is about 2.5 kg
They possess short fur making it easy to clean or groom them. The coat is also dense and soft
Harlequin rabbits are docile, clever, intelligent, calm, playful and good-natured
They have characteristic or distinctive colors and markings. Their head, body, ears and feet are split between two colors. That is, the ears have two different colors, the face also has two different colors and they alternate with the rabbit ears. The chest or bellies and feet have two different colors.
The head is roundish in shape and broad while the ears are erect and medium in length
Female Harlequin rabbits are heavier than the males
They fit into both pet, show and meat rabbit classes
Profile Summary of Harlequin Rabbit Breed
| | |
| --- | --- |
| Breed Name | Harlequin Rabbit |
| Country of Origin | France |
| Purpose | Show, Meat and Pet |
| Body Size | Small to Medium |
| Body Weight | Mean body weight is about 2.5 kg |
| Breed Rarity | Very common breed |
| Temperament | Low |
| Tolerance | Can tolerance both harsh and mild climates |
| Hardiness | Hardy |
| Color Varieties | The Japanese Harlequin rabbit is known for its unique blend of either black, chocolate, blue or lilac color on a fawn or orange background. The Magpie Harlequin rabbit is known for its blue, lilac, chocolate, or black markings on a white background. |
| Commercial Purpose | Yes |