Harlequin rabbits are a unique and captivating breed that has gained popularity among rabbit enthusiasts and breeders alike. Known for their distinctive coat pattern and playful personalities, Harlequins are a fascinating breed with a rich history. If you are considering adding a Harlequin to your rabbitry or simply want to learn more about this breed, then you have come to the right place. In this article, we will provide you with all the essential information you need to know about the Harlequin rabbit breed.
Origin and History
The Harlequin Rabbit is one of the breeds of rabbits that has its origin in France. This type of rabbit breed is popular for its coat coloration and markings. The Harlequin Rabbit was developed in the 1880s in France and is believed to be crossbred of a semi-wild Tortoiseshell Dutch rabbit and a wild rabbit. The Harlequin Rabbit was formerly called Japanese Rabbit but the name was dropped during World War 2.
There are two varieties of the Harlequin rabbit breed. They are Japanese Harlequin rabbits and Magpie Harlequin rabbits. The Japanese Harlequin rabbit is known for its unique blend of either black, chocolate, blue or lilac color on a fawn or orange background. The Magpie Harlequin rabbit is known for its blue, lilac, chocolate, or black markings on a white background.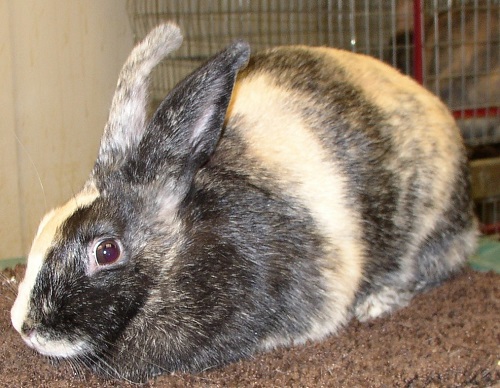 Physical Characteristics
It is known for its distinctive coat pattern, which consists of two contrasting colors arranged in a checkerboard fashion. The Harlequin rabbit has a medium-sized body that weighs between 2 to 3 kg (4.5 to 6.5 pounds) and measures about 50 cm (20 inches) in length. Female Harlequin rabbits are heavier than the male.
The head is round and broad, with upright ears that are about 10 cm (4 inches) long. The coat of the Harlequin rabbit is short and dense, with a soft and silky texture. The color pattern is divided into two types: Japanese and Magpie.
The Japanese Harlequin has a base color of orange, red, or fawn, and a contrasting color of black, blue, chocolate, or lilac. The Magpie Harlequin has a base color of white and a contrasting color of the same shades as the Japanese Harlequin. The pattern is formed by alternating bands of color on the body, head, ears, and feet. The bands are usually symmetrical and evenly spaced, but some variations may occur.
Temperament and Personality
The Harlequin rabbit is a friendly and playful breed that enjoys human interaction and socialization with other rabbits. They are curious and intelligent animals that can be trained to do tricks and use a litter box. They are also gentle and calm, making them suitable for children and families.
Caring
The Harlequin rabbit requires regular grooming to keep its coat clean and healthy. It also needs a spacious cage or enclosure that provides them with enough room to hop and explore. Additionally, they need toys, tunnels, and chew items to keep them entertained and stimulated.
The Harlequin rabbit is a lively and affectionate companion that can brighten up any home. The Harlequin rabbit can live for about 5 to 8 years if well cared for.
Use
The Harlequin rabbit is mainly kept as a pet or a show animal. They can also be used for meat or fur production.
Breeding and Reproduction
The Harlequin rabbit is a fertile breed that can reproduce throughout the year. The female Harlequin rabbit, or doe, can have up to four litters per year, with an average of four to six kits per litter. The gestation period lasts for about 31 days, and the kits are born blind, hairless, and helpless.
The doe will nurse the kits for about six weeks until they are weaned and ready to leave the nest. The Harlequin rabbit can reach sexual maturity at around 4-6 months of age. The breed has no known genetic defects or health issues related to their breeding.
Profile Summary of Harlequin Rabbit Breed
| | |
| --- | --- |
| Breed Name | Harlequin Rabbit |
| Country of Origin | France |
| Purpose | Show, Meat and Pet |
| Body Size | Small to Medium |
| Body Weight | Mean body weight is about 2.5 kg |
| Breed Rarity | Very common breed |
| Temperament | Low |
| Tolerance | Can tolerate both harsh and mild climates |
| Hardiness | Hardy |
| Color Varieties | The Japanese Harlequin rabbit is known for its unique blend of either black, chocolate, blue or lilac color on a fawn or orange background. The Magpie Harlequin rabbit is known for its blue, lilac, chocolate, or black markings on a white background. |
| Commercial Purpose | Yes |